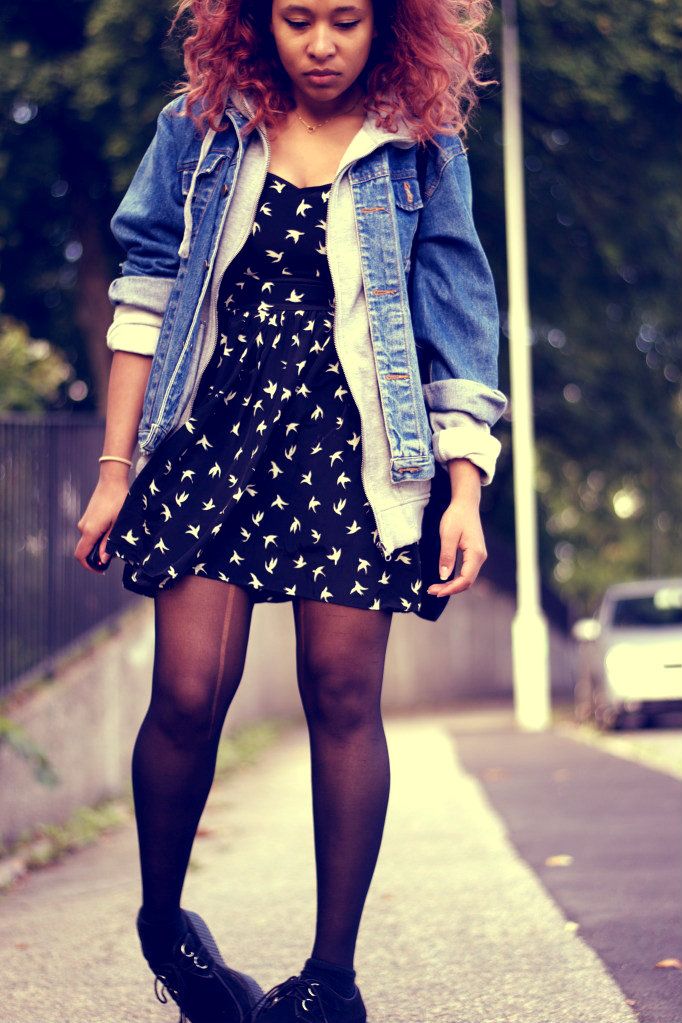 Dress:Missguided, Denim jacket:second hand, sweater:cubus,shoes:sheinside
Hello there! Its Friday again! And I feel super tired... Last night I couldn't sleep and I was up until 4 in the morning... But I m kinda glad I did... I did so many things... I talked to my oldest friend A. I known her since I was like 12 or 13... She is my best and oldest friend I wish I could see her more often, but since she lives in Croatia... Seeing each other is like super difficult... But I will try to go there soon... Another thing that I did while I was up last night, wast to watch an episode of my favorite show SATC... It was that one episode when Miranda gets married and Samantha saids she has cancer, and Carrie is with the Russian... Anyways you know that part when Carrie and the Russian are sitting and reading... She is reading a fashion magazines and he decides to read her a Russian poem in English... After that she reads a part of the article that she is reading and she describes this gorgeous Oscar de la Renta dress... After she is done reading, he laughs... Like thinking: Ah, you are so cute, and then he saids something like: Oh Oscar is my friend or something like that... and then a couple of days later he suprises her with that one dress that she wanted...oh and then they go to the opera... I know, super cheesy, but I love that episode... I dont know why... and its not about how he gives her a Oscar de La Renta dress, its not that, its a nice gesture and its romantic... Oh and another part that I really like about this episode is: Charlottes and Harrys relationship, they are right at the begining of their relationship and in one part of this episode, I think Carrie, mentions how they are going to be together forever - The start of a wonderful relationship she saids, naawww... Oh, Im hopeless... right now Im watching a little clip when Harry proposes,,, naw its so cute...
Ok Im going to stop myself here and Im going to talk live you with some pictures that I took a couple of days ago... I hope you like them!