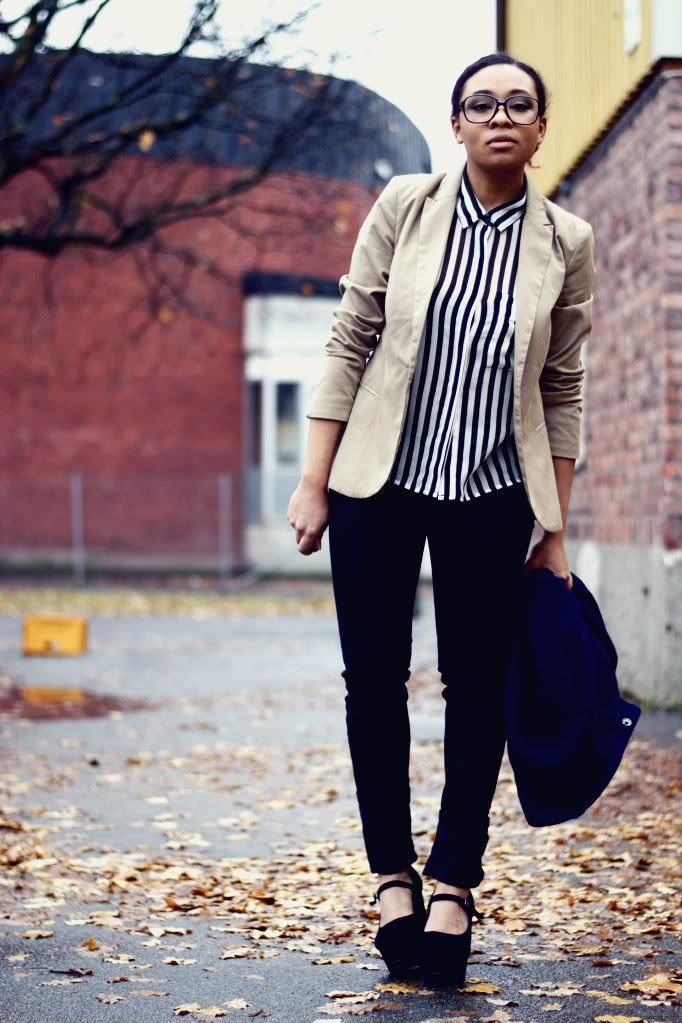 Glasses: Firmoo, Blazer.Stradivarious, Shirt:Gina Tricot, Black Jeans:Whyred, Coat:H&M, Shoes:Nelly.se
Mini update: Here is a mini update on some of the questions I've been getting over the last couple of days and weeks. I've been getting questions about the giveaway, my pictures and also my job interview . I dont know where to start. So I just going start by saying that the winner from my CHICNOVA giveaway has already been picked and contacted in the beginning of this week. SO, Congrats Nicole for winning =)... Someone ask like almost a day after the giveaway when I was going to announced the winner. But since I was following chicnova's requirements I couldn't just announced it right away... but for those who are wondering the winner has already been contacted. Sorry if the answer didnt come right away ( and dont worry I will be hosting more giveaways very soon, so stay tuned)... Another thing that I wanted to address was some of the questions that I got after uploading a couple of my make up looks from the past when I was a blondie. People wonder if the pictures were taken professionally, the answer is no. Some of the pictures were taken with my old digital camera that has a make up feature that softens the picture but that's it and some were taken with my DSLR nikon... And again as many of you already know... One of the key things for taking pictures is lighting and for make up looks foundation and contouring is also a key factor for "good pictures" I dont consider my pictures to be of the best quality, so I really get flattered when someone points that out... I also gotten comments about the fact that I dont overdue my make up looks, which is positive... But I have decided to broaden my blog with more make up and beauty orientated posts every now and then... I hope you all enjoy that =) ....
Now job questions: After uploading my last post when I talk about my job interview, I gave you some clues about what kind of job it was, but I didnt want to tell you what it was because I haven't been open about it in my regular life, outside the blog... and the reason why, is because I really want the job and I dont want to get my expectations too high by telling the world what it is and then getting a sad respond... Im looking for other jobs in the meantime so dont worry, something tells me that I will get it =) ... But anyways I thought I was going to tell everybody when I actually get the good news =)That sounds better and if you dont hear nothing at all its probably because I didn't get it..
I really dont know if you guys are going to read this but I believe and hope that some of you are...
So thats it for today =) Thank you for stopping by my darlings =)